I was trying to grab a button heart I made last night, and upturned the button tin instead.  Oh well, it is a sleepy Sunday morning, I obviously just need more tea.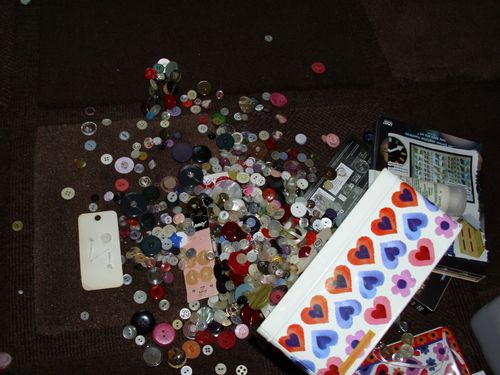 Here's the heart ...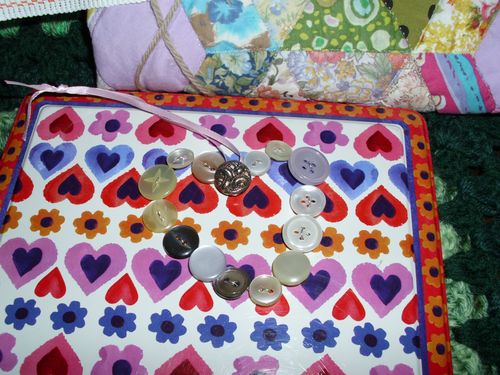 I tried making a larger version with multi coloured buttons, but the design seems to work best in a smaller form with mainly white and cream buttons.  The wire was bought from a jewellery findings supplier on ebay, and as I've still gots lots of beads from when I was making bracelets a few weeks ago I might use the wire and beads to make hearts with those as well. 
As for needlepoint, my winter cushion's still making progress.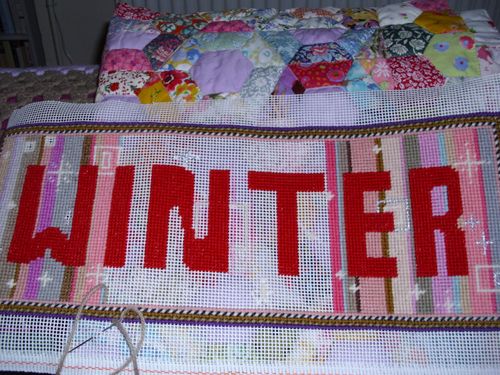 I'm still not entirely sure I've got the stripes in the right choice of colours, but too late to change my mind now.  As for books - I gave up reading 'The Slap'.  Too much swearing, way too many unpleasant characters you couldn't feel any warmth or affection (however grudging) for.  Just a thoroughly dull, nasty book.  The author has denied it's misogynist, saying rather that he writes about misogynistic men.  Either way, I'm not interested ...  So I've got a stack of alternative books to choose from.  As the next book club meeting isn't until January there's plenty of time to read Barbara Kingsolver's 'The Lacuna' for then.   In the meantime I might try Joyce Carol Oates 'The Gravedigger's Daughter' or treat myself to a nostalgic dip into a Margery Allingham.  Perfect for a cold day outside/cosy afternoon on the sofa inside.