Very slowly this quilt is making progress.  But we're talking sloooowly ...

I'm pooped by this heat and by work being busy, plus I've got noisy neighbours moved into the flat upstairs who seem to think playing loud music at 5.00am is acceptable.  Consequently I'm in a lethargic phase.  I am managing to do the odd bit of typing up, adapting and reworking a couple of short stories that I want to enter into writing comps, and also weeding and watering the allotment.  A few weeks ago the grass between plots was long and lushly green, now it's scrubby and yellowing.  Still, M&S have got their autumn fashion in store so the heatwave will break before long I'm sure. 
I keep making resolutions to do up my flat, but judging by the state of my dining table I'm not making much progess, am I?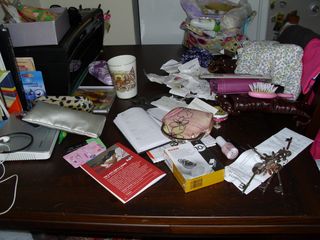 Thank you to everyone who's taken the time to leave a comment lately.  I really do appreciate them and I will try - really try - to blog a bit more than once in a blue moon.  Meanwhile I'm going back to my sewing and to watching one of the films I've just bought in Fopp - the original version of 'The Producers' or maybe a young and ridiculously handsome Orson Welles in 'The Stranger' - subtitled 'The most deceitful man a woman ever loved!'  With a line like that, how could I resist it?