My 'Not at Liberty' quilt is making steady progress, and I've completed a few blocks now.  I'm searching through my fabric stash for material that resembles Liberty print, and also was a bit naughty and splurged on new fabric yesterday.  But it's so pretty and so Liberty-esque.  At £3.67 a metre it was also a bargain.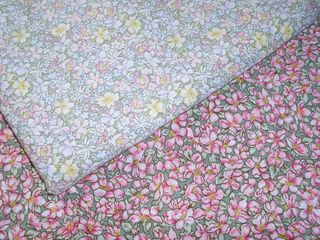 The blocks I've made are mainly quite soft colours, so I'm not sure how the red one is going to fit into the finished design.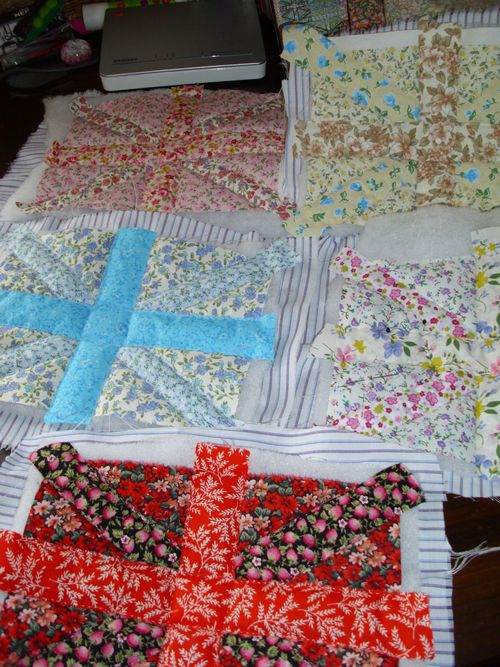 Another view of them: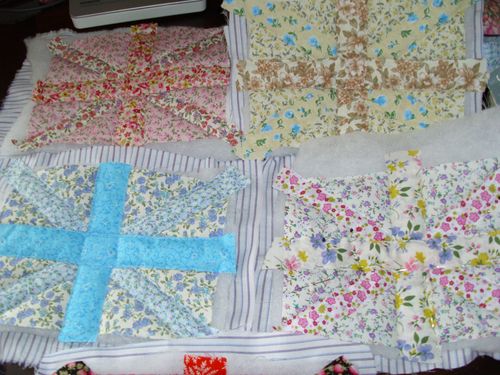 The edges on the horizontal and vertical lines of the Union Jacks are deliberately not turned under, and they're already fraying a little, but I'm happy with that.  I like quilts that look worn, and anyway I'm going to quilt the blocks with rectangles over the centres of them when I'm assembling the whole thing so I think it'll be pretty hard wearing.  I think sometimes with patchwork we get too fixated on producing something that's technically perfect and forget that some of our favourite quilts from past decades/centuries are the ones with the wonky seams and make do & mend attitude.  The ones where the fabric was just what was available rather than specially bought.  At least those were always the ones I gravitated towards!