Browsing through yesterday's newspaper was an illuminating business.  Firstly there was an interview with Marina of Marina and the Diamonds fame.  If you haven't heard of her yet, you will.  I can't get 'I am not a robot' out of my head.  It's a beautiful song and she has a fantastic voice.  Plus, what a great outfit ...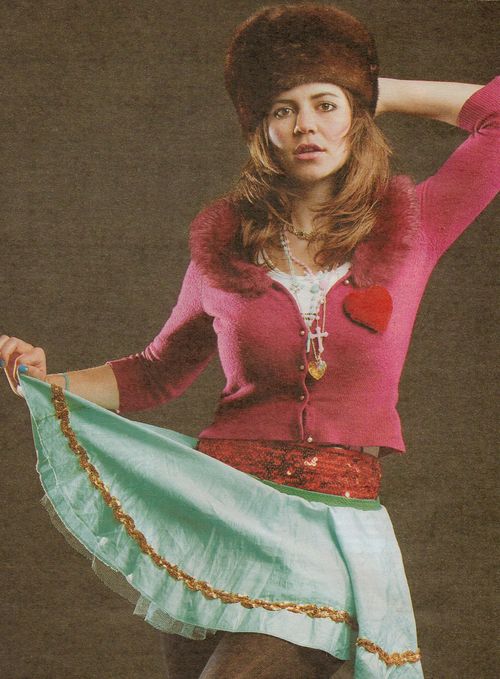 I love the cardie with the heart brooch and the sequin on the waistband.  Teaming it with a pale blue skirt shouldn't work ... but does. 
Elsewhere, a lovely article about a knitter who's struck gold.  Self taught 24yr old Ysolda Teague is making a good living from selling her knitting patterns and self published books.  She's a real success story, and stories like hers bring to wider attention the fact there's a lot of money being spent by crafty consumers.  Knitters buy wool, magazines, patterns.  Patchworkers buy fabric and soon will be descending in their hoardes on the V&A in London for a big quilt exhibition.  There's a whole economy which is - I'm sure - overwhelmingly female in terms of buyers, and ought to be an area where female businesses flourish.  A good thing about the development of the web is the number of female indie crafters that sell their wares.  It's not a 'black' economy, but it's a kind of 'alternative' economy, don't you think?

While still on the subject of women in business, there's been a lot of coverage of London Fashion Week recently.  A lot of it revolves around the elite fashion shows, the glossy 'Absolutely Fabulous' mwah-mwah side of things with outlandish clothes or elegant drapery and - horribly - a lot of real fur.  So I was interested to read an article about the less glitzy side of LFW.  Rachel Jones of raejones.co.uk makes and sells shoes, and had a stand in an unglamorous exhibition space where she networked and hoped to interest boutique owners and retailers in stocking her shoes.  With all the interest in catwalk shows it's easy to forget that fashion is a big business that employs a massive number of people.  They design, stitch seams, package up clothes, publicize them, etc.  It's clearly not all champagne and hob-nobbing with celebrities.