There are definately stirrings of Spring around.  The days are still cold but lighter and brighter, and my thoughts are turning to planting seeds.  That might take up a good part of today, but back to yesterday.  I did the rounds of charity shops, and came up with more lovely finds.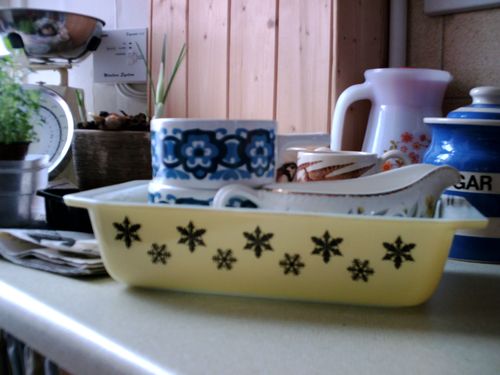 The Pyrex dish was the best of 'em, £1.49 for this pale yellow oblong dish with a cute snowflake pattern, while the funky soup dishes were 79p each and the gravy boat 99p.  Not that I have any need for a gravy boat, but it was pretty and cheap and ... oh, you know how it is!  The Pyrex dish is particularly nice and I can see why people collect it, as shown by all those groups on Flickr.  It's good looking but also durable, like the best kitchenware.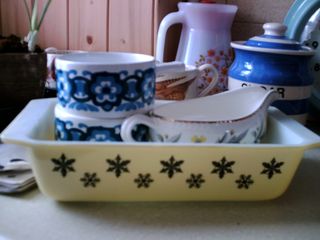 I picked up a copy of Jean Greenhowe's 'Jiffyknits' as well, a very funny pattern book for knitted cakes and sandwiches, knitted baked beans in cans (!!!) and knitted invisible men.  It's so sweet and kitsch, I'm kniting biscuits in between typing.  Pictures to follow ...  Finally, I keep trying to moderate comments on typepad, but I still seem to end up with messages about essay writing companies and buying car insurance.  Such a nuisiance.  Spam is one of the most infuriating things about the web, isn't it?