I've watched a couple of DVDs lately that've really inspired me, and which are helping to re-awaken a dormant love of clothes.  For years I've not really bothered much - if at all - about fashion, but it was something I loved as a younger woman, and I sort of miss being out of the loop.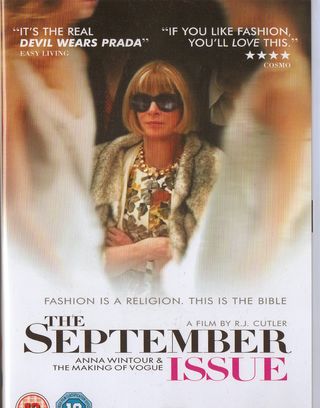 The September Issue concerns the publication of - okay, you guessed it! - the September issue of Vogue.  It's the bumper edition that's become something of an institution, and sounds as though it needs trolley wheels to transport around.  The central character (maybe you've seen the film?) is Anna Wintour, editor and modern urban myth.  She's supposed to be the Ice Queen, regal and unapproachable, but she comes across as rather childlike - easily bored, not bothering to disguise it, self centred and regardless of other peoples feelings.  I can't admire her, despite obvious professionalism and dedication, because of her championing real fur.  As far as I'm concerned, rabbit fur looks better on a bunny than a coat collar, mink looks better on frisky little minks ... you get the picture. 
The real star of the show turns out to be Grace Coddington, model turned uber-fashion-stylist.  She has an extraordinary eye for what makes a compelling fashion shot, and she clearly adores clothes.  Not product.  Clothes. 
Seems to me the reason why I went off fashion was the stress through so much of the 90s and Noughties on clothes as product, as designer label, as 'how much did it cost?'.  Fashion is about fabric though, about texture and colour.  Wintour boasts about how many pages the September issue has.  So what? was my thought.  Seeing Grace Coddington's enticing fashion spreads makes you wonder what kind of magazine Vogue would be if it stopped being so centred on product and advertising, and became a true fashion mag.  But then of course reality means endless pages of advertising, otherwise the magazine would be financially down the drain. 
The next DVD is Orlando, and this film has the most sumptuous clothes.  The costume designer behind it is Sandy Powell, who recently won an Oscar for The Young Victoria, and her vision is superb, knitting together clothes from different periods in English history.  You'll swoon over the dresses and wigs and jewels.  Seeing this made me want to create, got me itching to sew.  I've been cutting out magazie pictures of hair accessories, embroidery, inviting textiles, trying to get clear in my mind what it is I want to make.  Time will tell ... but seeing these two different films has re-awakened that love of clothes as adornment, as joy, not just product. 
Just wish Anna Wintour would renounce real fur ... maybe one day ...