I found this fab veggie dish and lid in a charity (thrift) shop for the bargain price of £4.99.  There were 3 dishes the same, and I could happily have bought all 3 but I decided to leave the other 2 for fellow bargain-hunters.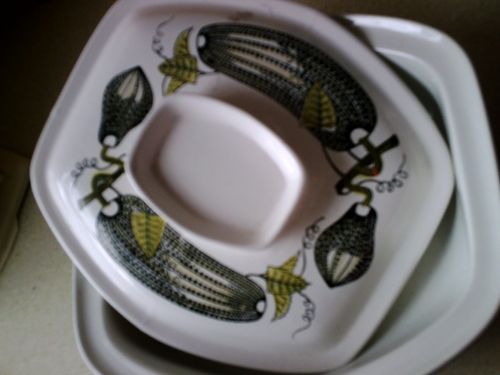 I do love kitchen dishes that are either decorated with fruits & veg or shaped like them.  It's the daft, kitschness of them (if that's how you spell it) that amuses me.  I think these marrows would make great needlepoint patterns or maybe could be used for embroidery.  On the crafty front - in between reading 'Wolf Hall' (wonderful) and Christmas shopping (not so wonderful) I've been at the patchwork again, patiently piecing together hexagons.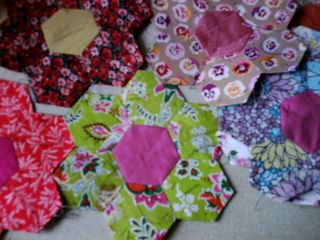 I think I'll have to make a New Year resolution not to buy any more fabric (unless it's something truly irresistable!) as I really ought to use up the stash I've got.  But then again, buying crafty supplies - gorgeous fabric, lush yarns - is one of life's small pleasures, isn't it?