I'm trying to get somewhere with this needlepoint pattern, but as yet it doesn't seem to have got enough zing to it.  Sometimes you just have to keep going.  A lot of patterns look uninspiring when you're halfway thought but come right in the end.  This one - with the coloured rectangles on a white background - isn't vibrant enough, and I'm wondering if the white is the problem.  I wanted a neutral background, but white can be deadening.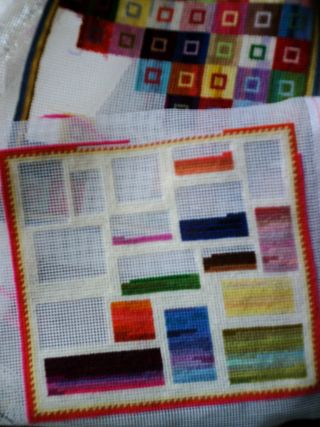 I'll carry on till I'm finished, then back it with a lively fabric and see what the cushion's like when completed. 
When you make up your own patterns you have to accept that some work better than others, it's trial and error.  Occasionally you make things you adore, sometimes you make things you kinda like, and other times ... hmm, well ... those end up being cat cushions or tucked away out of sight.  Oh well, on to other matters ...
I've been sorting out some of my works-in-progress too, and there are plenty of those.  I started some knitted bunting a while ago, and need to get that completed.  Does everyone have stacks more ideas than time to complete them?