I thought I'd recommend some inspirational reading today.  They're ideal for leafing through and getting ideas, or for browsing when you're just too tired to stir off the sofa.  The first is a book that's just right - the size, the feel of the cover as well as the look of it - you know how sometimes you see a book on a shelf and just know it's going to be a good choice?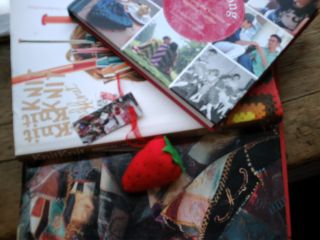 'Knitalong' by Larissa Brown and Martin John Brown is a lovely book.  It includes chapters on the history of knitting, lots of modern patterns with clear instructions, website addresses to go to, examples of arty knitting projects (such as covering a tank in pink knitting!) and loads more.  It's a book that makes me yearn (yarn?!) to open a knit cafe and have people dropping by for a row of plain & purl and a latte.
Next is my favourite patchwork book, now I think sadly out of print.  'The Passionate Quilter' by Michele Walker.  A wide selection of crafters of all ages and backgrounds are featured, including Deirdre Amsden (oh!  those Colourwash quilts!)and Janet Bolton.  It's a book I return to again and again like an old friend. 
Finally, I'd recommend 'KnitKnit'.  Subtitled 'Profiles & projects from knitting's new wave'.  I think this is going to be an old favourite too.  From Knitta Please via Freddie Robins, Joelle Hoverson and Cat Mazza, it's full of gorgeous photos.  Some - in fact many - of the knitting projects featured are way beyond my knitting skills, but there's a mohair belt that I want to make before long.  There's also a fab photo of Joelle's 'Purl' knitting shop.  I want that shop!!!
Oops, I'd better sign off now.  Time to get out of my dressing gown and get ready for another working day.