The weekend goes so quickly, and it's back to work before you know it.  But before then there's still more crafty work to pack in.  I finished a few half completed pieces of felt food yesterday.  I forget how much I like work with felt, having done so much knitting & needlepoint lately.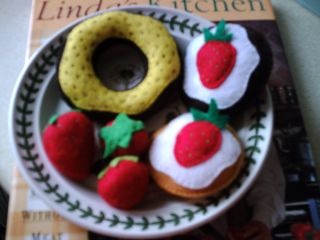 The colours are so vivid, and not fraying means it such an easy medium to sew with.  I'm now completing some Jaffa Cakes!!  (Mmmm, wish I had the real thing to hand, but I'm trying to cut back on snacking.  My tum is starting to resemble Pooh Bear's.)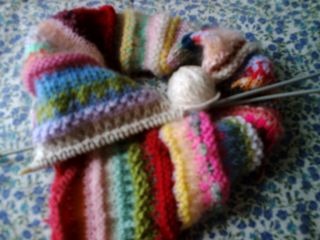 In the evening when the light got too bad for sewing (my poor old eyes don't cope well with artificial lighting when it comes to stitching tiny, weeny stitches) I swapped to a few more purl & plain rows.  The scarf is growing .... row by row. 
I did that while watching 'X Factor'.  Cringe-tastic!!  The self delusion of some people who auditioned is extraordinary.  They're so convinced they're going to be a star, and look crushed when the blindingly obvious ('you've got a terrible singing voice') is explained to them. 
You can tell autumn's on the way when the TV schedule changes and the big shows like this crank into gear.  I'll watch for a week or two.  It might be car-crash TV ... but it's my guilty secret!