I've always cut out images from magazines that I like, whether it's due to an arresting colour combination, interesting shapes or an interior that's meant to spur me on to decorate.  Sticking things into makeshift scrapbooks keeps everything in one place and throws up some odd combinations.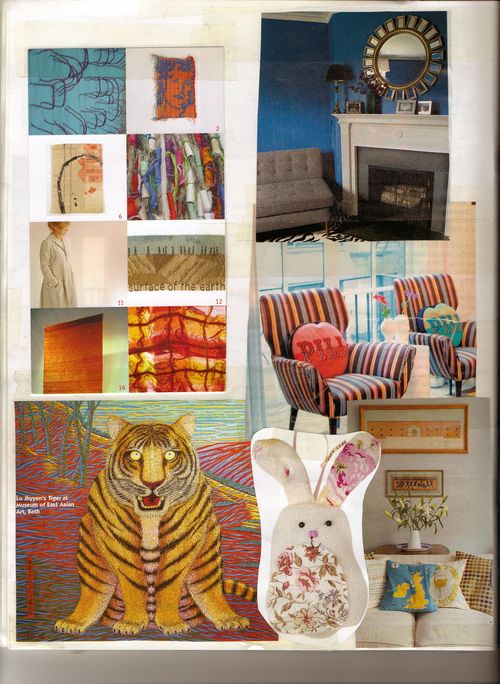 On this page there's a gorgeous blue wall I'd love to copy, a cute little bunny that I'd like to make a similar version of - only longer and thinner and of a fluffyish fabric - and two fab stripy chairs.  Their stripes echo those of the funky tiger, and finally I like the blue cushion with the map of the UK on it.  A decorated tea towel would be easy to convert into a cushion cover and there're always lots in charity shops.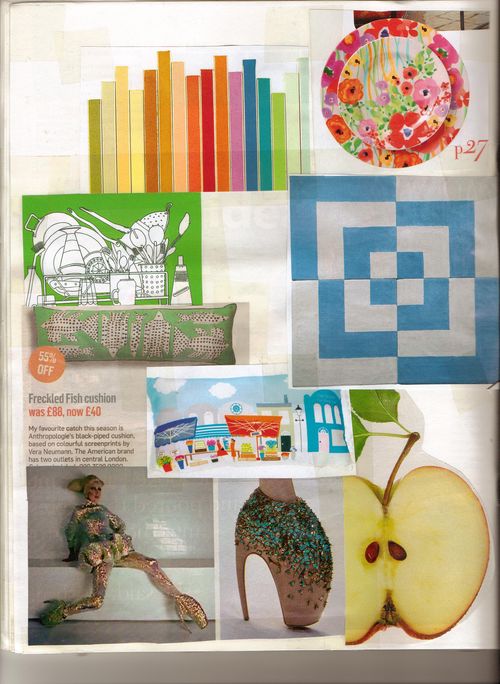 Love the curves of this apple half and those of the Alexander McQueen lobster shoes.  There are some good ideas for needlepoint patterns here - the two tone squares would translate into a simple geometric pattern that'd be quick and easy to stitch.  Alternatively it could be knitted or adapted for patchwork. 
On the subejct of needlepoint, this is just a little square I did based on a greetings card design.  The cat is embroidered on, and I'm happy with its jaunty air.