Oh, I'm not such a Fancy-Nancy now ... I downgraded my Typepad status, so this is just a free blog rather than a bells & whistles paid one.  Not as nice, but I couldn't justify paying for something I so rarely posted to.  I do mean to post more often, but you know how it is ... real life just gets in the way! 
So anyway ... I was recently sent a free copy of Living magazine, and it's full of gorgeous - costly - things to buy.  But for us craftier types there are ideas we could pinch, modify, put our own slant on.  How about knitting a lampshade?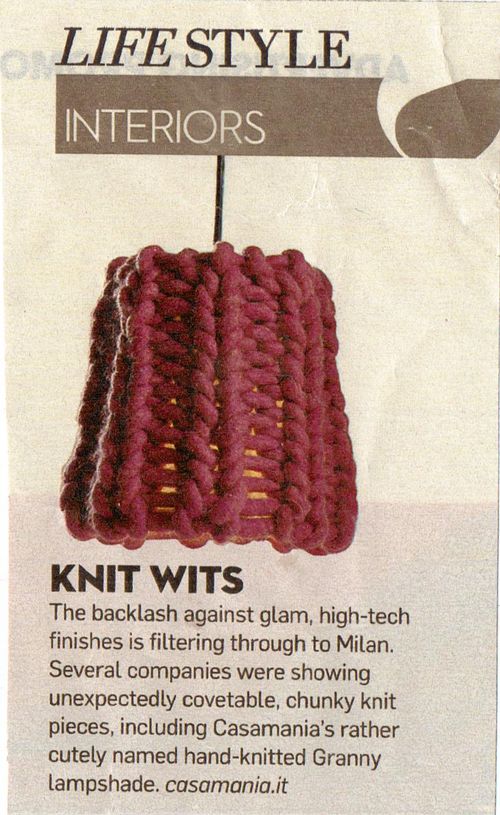 This one's a pretty simple shape, though I don't know whether there's any special requirements about the flamable/non-flamable nature of the fibre you use? 
Or how about a bit of painting on china?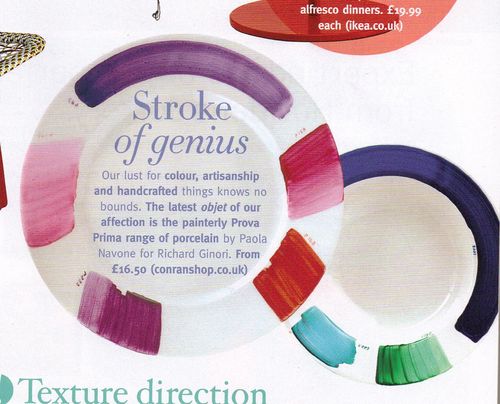 These plates are fab, but couldn't you make your own with a few tester pots and some clear varnish on top? 
More plates, this time floral: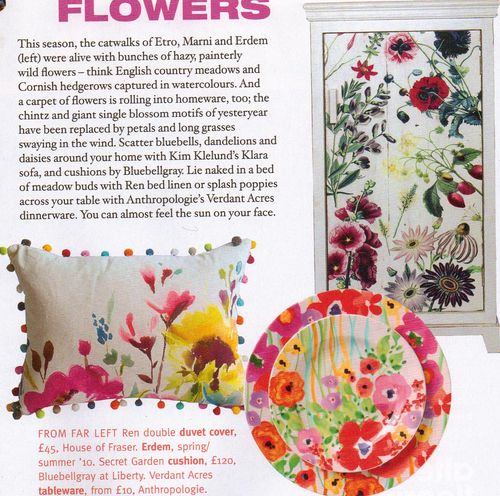 The flower design on china is within most peoples artistic range, while there's also a pinchable idea with the cushions - add brightly coloured bobbles or mini pompoms to a printed cushion for extra oomph.  Oh, there's the decorated cupboard too - if you couldn't paint these, you could decoupage them.  Grab a magazine like Country Living and snip away, then paste down and varnish. 
Finally ... for something completely different, also featured in Living magazine but sadly without credit to the designer.  I absolutely adore these dresses.  They clearly take inspiration from Victorian crinolines, but they mix that with a modern take on umbrella spikes and come up with something utterly modern.  Wonderful.