I bought yet more china the other day.  I know!  I really don't need another coffee set but this Johnson Bros china was too nice to ignore.  It was £6.00 in a charity shop - a slender coffee pot in a beautiful taupe colour, four cups and saucers, a little sugar bowl and milk jug.  Two of the cups have chips on the rims, but apart from that they're fine.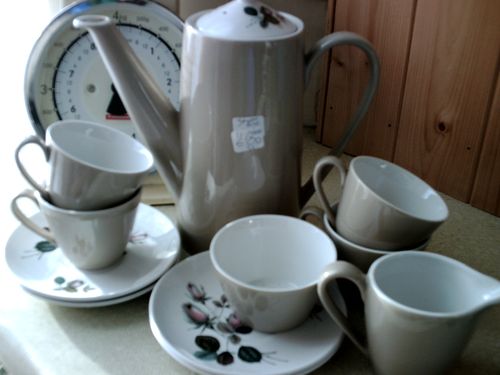 As a lot of the stuff I've bought is tucked away in cupboards I've been trying to sort out some display space.  I can't afford to buy any shelves or cabinet at the moment, so I've been 'customizing' the kitchen.  The built-in cupboards I've got in the kitchen are incredibly old and not very interesting, so I've taken off the doors and got as far as painting one of the insides in off-white.  Add a few cup hooks and it's starting to take shape.  I wouldn't mind buying a roll of floral wallpaper and papering the back of the cupboard to give it further interest.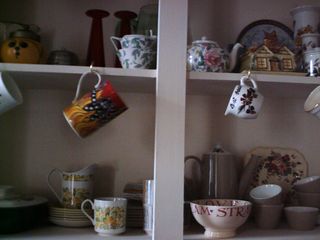 At least this way I can see and appreciate what I've bought.  There's no point in hiding things away, is there?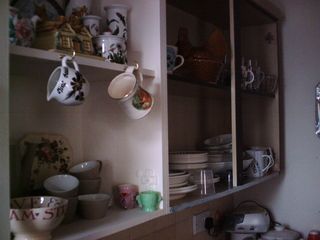 This picture shows the cupboard on the far right still waiting to be painted.  So, that's something to occupy me on a rainy afternoon.