I'm still knitting cakes, and these are a collection of 'em waiting to have labels sewn on them and some of them haven't even got their cherries on the top!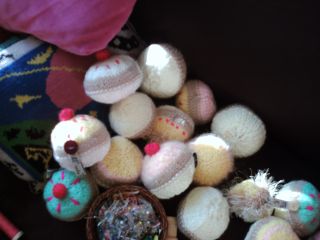 They're going to be for sale at November's art trail in Totterdown, though I've no idea how well they're sell or what I might charge for them.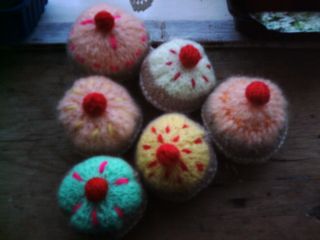 Between knitting and the odd bit of patchwork I've been reading Beth Saulnier's 'Ecstasy' which is a great 'crime' novel with a gutsy independent female lead and a very believable setting and gripping plot.  I've read a couple of other books of hers, and really enjoyed them.  I do love a fictional murder!  I've come to an absolute halt with Muriel Barbery's 'The Elegance of the Hedgehog'.  Just finding it soooo dreary.  Finally, before I go I just have to say I'm loving the new Autumn / Winter fashions.  Lots of dramatic black and highlighted by sequins everywhere, faux fur (the only kind that should be worn) and jewel colours of teal, purple and ruby.   Summer's fashion seemed - like the hedgehog book - rather dreary, so it's good to buy 'Grazia' and leaft through saying 'like that', 'like that'.  Was looking at coats today in Primark, and for £30 you can buy a pretty decent one which is fantastic value.  I find with Primark's coats or jackets that you need to swap the buttons for something classier, but that's a simple thing to do and worth the extra pound or two.