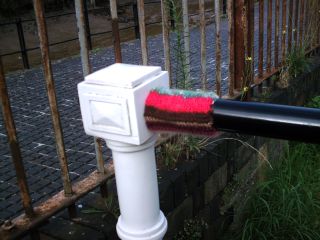 I went out for a Sunday morning cycle today, armed with a bag of knitted cozies and the idea of attaching at least one to something.  Then I behaved like a complete wuss and almost lost my nerve.  Everytime I delved in my bag for a cozy or a cable tie, a jogger/dogwalker/cyclist appeared.  Who knew there were so many neon lycra clad cyclists around on an overcast Sunday morning!  I keep telling myself to just ignore them and attach my knitting anyway.  So what if they see me ... they'll just think I'm a nutty old bag, an eccentric Englishwoman ... but I haven't reached that point yet and still want to yarnstorm anonymously.  But at last I found a quiet couple of minutes and attached this little fella to a glossy black post.  I think this second photo is so funny.
Somehow the left side of the picture has distorted so it looks as though the railings are bendy.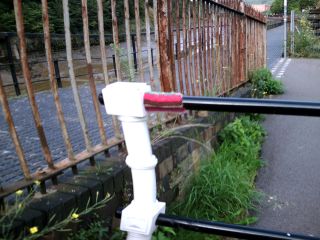 I don't know how those graffiti sprayers work up the nerve to produce some of the elaborate sprayworks they do.  (I'm not talking about the idiots who just write f**k in huge letters, but the proper artists who have a lot of talent.)  Do they go out at night?  Or just get up very, very early in the morning?  Cos that doesn't sound like any teenager I know!