It's a Bank Holiday, so I've got a day off work.  I've been catching up on some knitting and in particular assembling some bunting.  This is an experiment with little knitted monsters - one eyed creatures with big gnashing teeth!  They're suspended on ric rac.  I was thinking of making a variation of these - aliens rather than monsters, so using green wool and the odd metallic silver.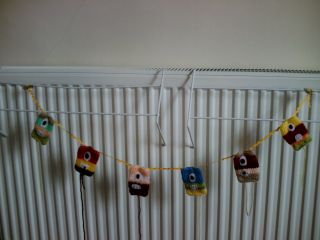 When I'm done with the bunting there are plenty of other bits and pieces to finish off, and something good to watch on the telly too - I taped last night's hour & a half of 'Wuthering Heights'.  It's such an amazing book, I'm hoping that it's a decent adaptation.  There've been a few turkeys in their time (I'm not even going to mention Cliff Richards as Heathcliff.  Eeeuch!).  Bronte wrote such a weird, wonderful, compelling novel - so unusual for the age in which she lived - that I'd always recommend it to anyone who's just watched a film or TV version.  You need to read the prose to really appreciate the story.   
A crafty corner of the sitting room, always home to a jumble of knitting, needlepoint and felt softies.  Oh, to have a tidy home!