I treated myself to a couple of goodies the other day.  One was Knit1, a lovely magazine with some really interesting patterns and features in it, including ones on Freddie Robins and Diva Zappa.  It always feels very indulgent to spend money on magazines - this one was £4.95, but you need a treat now and again, don't you?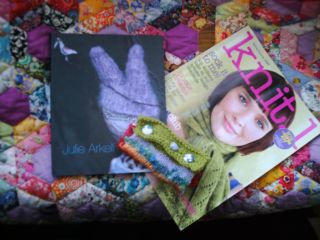 The other goodie I bought was a book of Julie Arkell's work.  She's such an inspiring artist, and her work appears simple and naive but it's actually rather sophisticated - and definately beautiful.  I'm looking forward to putting aside some time to read the book thoroughly.
I've also been knitting some odds and ends like this little piece with plain and purl rows of stripes.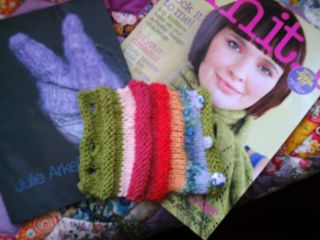 There're 3 buttons to fasten this around an unsuspecting lamp post or street sign post.  Just gotta be sneaky and fix it in place ...