I spent last night watching the first two episodes of Kirstie's Homemade Homes, which was great fun.  I love her enthusiasm for make do and mend, trawling through rec yards and markets for second hand goodies and her championing of British craftspeople.  It was very sweet to see how thrilled she was with making a simple envelope cushion.  Bless!  I also loved the little knitted house featured at the start of the programme and before/after the ad breaks.  Would really like to knit one, so I came up with a very, very much simplified version.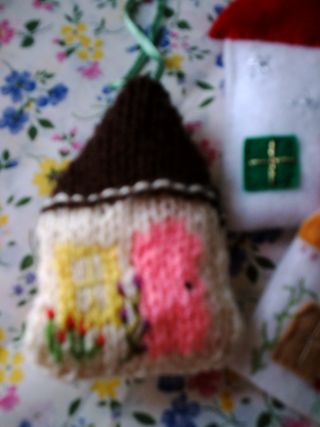 It's embroidered with flowers and slightly padded with polyester filling.  Not sure it has any practical use, but I enjoyed making it.  I like the idea of making bunting with lots of litle houses of differently coloured wool.
This knitted house joins a couple of others I've made in felt, one a Christmas decoration with red/green/silver and the other just another non-practical piece of enjoyable sewing.
I'm going to knit another house or two, and improve the design.  Maybe make that bunting too.