It's been raining so much this week I haven't spent more than an hour on the allotment.  I did manage to pop over yesterday early evening, only to find that The Evil Slugs have been feasting on my poor little plants.  Tender leaves are either more full of holes than a piece of cheese, or have been munched until there's nothing left but a stalk.  I'm loathe to use slug pullets, but I might have to. 
Anyway, on to craftier matters ... are you getting 5 a day?  Pieces of fruit I mean.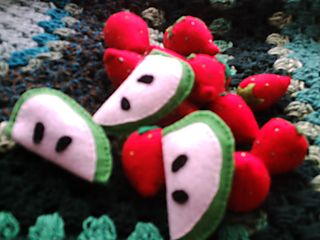 I've been making strawberries for a while, but the apple slices are new.
There's also been some baking going on ...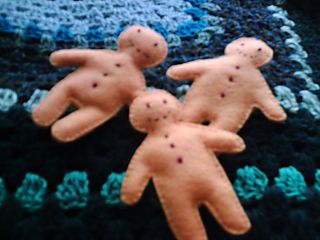 These gingerbread men look pretty pleased with themselves.  The colour doesn't show up too well in my dodgy photo, but the felt is a wonderful spicy shade, perfect for gingerbread.