A gorgeous sunny weekend ... after the weathermen were promising a deluge of rain!  I managed some needlepoint yesterday, working on a new pattern.  The sketch below gives a rough idea of what it'll look like - oblongs of bright stripy colour on a plain cream background.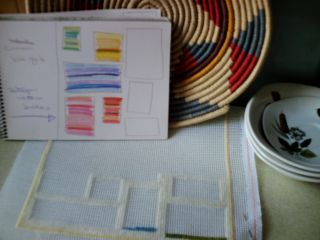 The basket in the back of the picture is one I picked up yesterday for £1.50 in a charity shop.  Baskets like this are so useful for yarn or spools of thread. 
This idea of putting stripy colour on a plain background was also behind this pin cushion pattern (which could be easily adapted for a full size cushion).  It's really enjoyable to work as you just get to choose any colour you like in those oval shapes.  You can blend them in or have quite marked contrasts.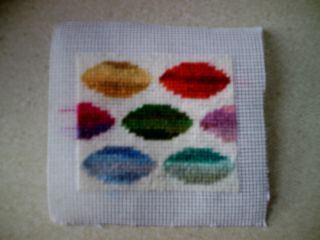 It reminds me of those patchwork quilts where you get a white background and circles of printed fabrics appliqued on, then the whole lot quilted. 
Finally, a knitted bag for you.  I've made a few knitted bags in my time, but never ended up with one I liked or that was useful.  The trouble is that I don't like lining bags with fabric as it's too fiddly, but most bags I've tried to make are too flimsy to be useful without being lined.  Then yesterday I had a Eureka! moment.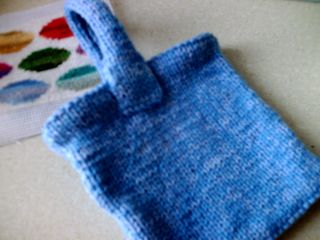 I used a sky blue double knitting weight wool along with a lighter blue in a thinner yarn (the sort you'd use for baby knits).  I cast on 30 stitches using this doubled wool and knitted this sturdy little bag.  The bag is just one long oblong, and the handle is knitted separately and sewn on.  I might add a decorative button or a knitted flower, but essentially it was finished in the space of an evening. 
Going to have a go at a bigger version, maybe add stripes to the pattern too.