I can see way too many UFOs.  Not shiny silver saucers winging through the night sky but those dratted unfinished projects that start off in a flurry of excitement then get pushed into a corner and forgotten when a new idea comes to mind.  So I'm trying to finish a few off.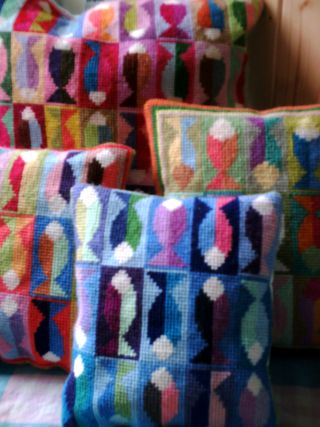 I've backed and stuffed a few more cushions, and spent yesterday afternoon quilting  a section of an entirely hand stitched patchwork quilt.  Those things are like the Forth Bridge, you never feel you're making much progress but one day - one day! - you'll get there. 

Apart from that, I seemed to spend most of yesterday eating!  The more I think about dieting, the more I seem to stuff my hamster-like face with everything I can find.  I think I need a whole shelf full of those self help books, plus maybe a padlock on the fridge.  Oh well, I'm starting today with good intentions.  Let's see how those work out.