I'm drinking tea, listening to a druid called Arthur Pendragon being interviewed on the radio (don't ask!) and uploading photos on to my Photo Album.  Here's a couple of pictures for Sunday morning viewing.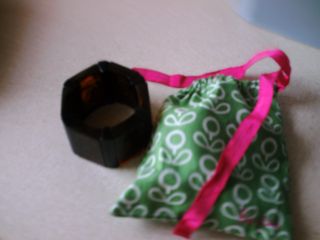 This first one is of a big chunky bangle I bought from Boden.  It's not somewhere I'd normally shop (a bit too yummy mummy for me) but I'd got on their mailing list and they keep sending me leaflets.
One leaflet caught my eye, offering a £10 discount on anything I bought, plus 15% off plus free postage and packing.  So I bought a £15 bangle I really liked (but wouldn't have paid fifteen quid for) and once discounts were put in place it came to a grand total of £2.75. 
The bangle's a lovely dark amber, but it's suited more to bare summer arms so I'm not wearing it much yet, and it came in this sweet green and white patterned bag with a lovely pink ribbon.  The bag now houses my ipod and charger, the ipod being the same bright pink as the ribbon.  Such are life's little pleasures!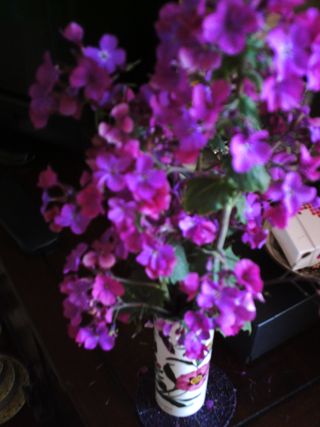 This second photo is of (I'm 99% certain) larkspur.  It's one of the few things I managed to grow last year on the allotment that wasn't demolished as part of a luxury buffet by The Evil Slugs.  The flowers are past their best now, but look at that vivid colour.  Stunning.  I couldn't resist picking some and putting it in a vase.